I scored this dress back in August from
Langford Market
at the Texas Style Council prom night. I am not sure why it has taken me so long to wear it. It's been hanging in the front of my closet for the last two months. I should be ashamed of myself that it's just making an appearance now. A basic, black and white stripe shift dress is not something to put on the back burner.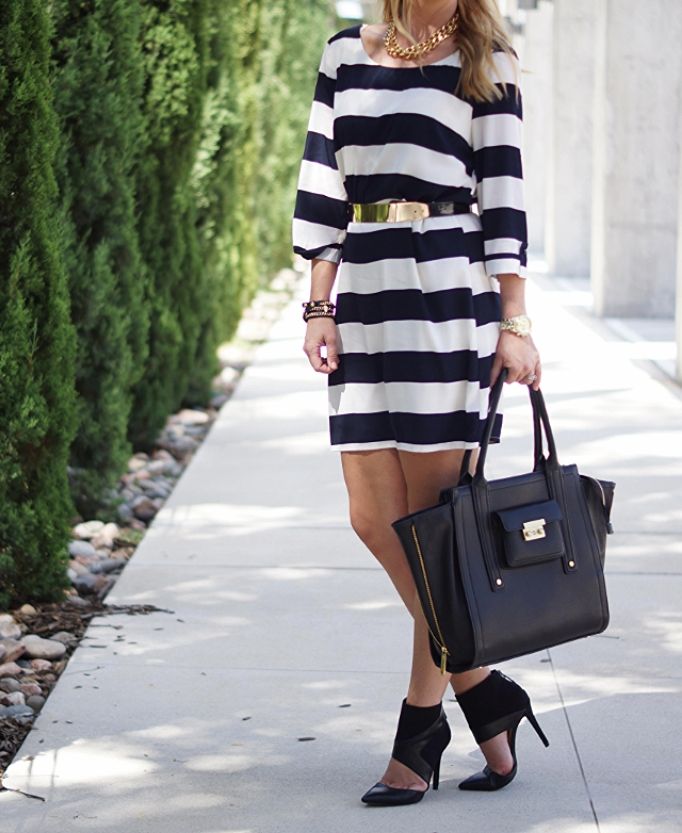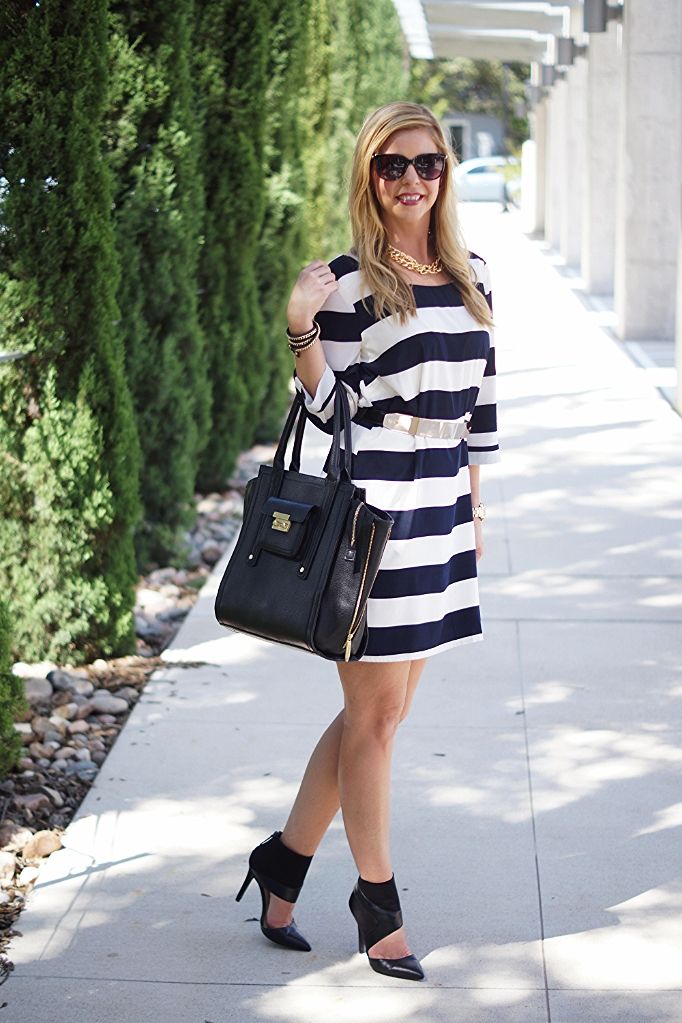 Okay, I need to confess why this dress has been tucked away for the last two months. It's because September spending kicked my booty with shopping. I have been itching to wear all the new stuff I bought and ignored all the pretty things that I already had hanging.
Do you remember my
Labor Day shopping haul
? Yes, it was out of control. Then the Phillip Lim for Target collaboration rolled around and I bought not one, but TWO bags. I finally took a deep and sorrowful breath and returned one of the bags yesterday. Obviously it wasn't the black one.
So, here is the deal. I am making a vow to myself and all of blog land that I will
(with all my strength)
NOT buy anything to add to my closet during the month of October. The only exception is if I sell something on
Poshmark
and use the money I make to get something new.
I spiraled out of control and I am 100% acknowledging it and taking full responsibility. I think we all went a little coo-coo for Cocoa Puffs last month because of the excitement for fall clothes and a new season. But, the irrational whipping out of a check card, pretending I have an endless bank account has got to stop.
It's time to wear the clothes I already own, ones that have only been worn a time or two, remix pieces, play dress up and get creative. It's a sin, people....a sin to look back at the money I spent last month on material things. I am ashamed. My tail is between my legs.
I know I am not alone and that's the only thing getting me through the guilt.
It's black and white...no gray areas. It's time to work my closet, ban online "window" shopping and leave my bank card at home.
P.S. I am guest posting for Laura with
Walking in Memphis in High Heels
today. Hop on over and say hi!
**If you are linking up today, the only request is that you follow my blog with GFC or Bloglovin' and link back to it in your post. It's how weekly link ups work. Oh, and go meet some new friends!